Viola Desmond didn't set out to make history, but she did.
Greetings!
International Women's Day.  Celebrate, be a visible leader and take concrete actions towards creating gender inclusion in your law department.  Pay equity, equal opportunity and standing up for true inclusion for all:  these are things you can do.  As a signatory of the LLD, today provides you with an opportunity to evaluate what you must do more of, and becoming better at, in creating a more inclusive legal profession.  Set the inclusive leadership example!
Viola Irene Desmond, businesswoman, civil libertarian, born 6 July 1914 in Halifax, NS; died 7 February 1965, built a career and business as a beautician and was a mentor to young Black women in Nova Scotia through her Desmond School of Beauty Culture. It is, however, the story of her courageous refusal to accept an act of racial discrimination that provided inspiration to a later generation of Black persons in Nova Scotia and in the rest of Canada. In December 2016, it was announced that Desmond would be the first Canadian woman depicted on the face of a Canadian banknote — the $10 note in a series of bills released today.
Look at this picture from last night Diversity Pitch event at Thomson Reuters!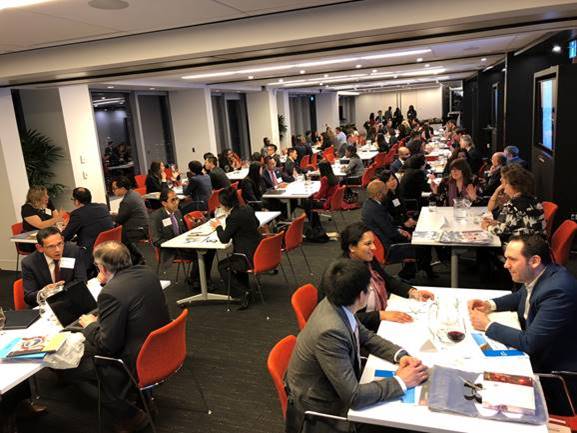 Key message from the General Counsel in the room:  we need to see the diversity we see in our communities reflected in the law firms who pitch to us and provide legal services to us!
What an outstanding evening.  Over 30 organizations, many of them LLD signatories, hearing compelling pitches from talented diverse lawyers. A fantastic collaboration between the LLD and Diverse Champions for Diversity www.diversitychampions.ca.  Thanks Julia Shin Doi and your team for organizing this impactful event.
Finally, keep an eye on your emails for an exclusive invitation to the LLD sponsored "Women in Power.  Women in Politics" on May 10.
Religious and Cultural observances in March
March 1 – Purim (Jewish) Purim is known as the Feast of Lots, which celebrates the deliverance of Jews in Persia from the machinations of Haman. Jews dress in costume and give gifts of food to each other.
March 2 – Alá (19-Day Fast Begins thru Mar 20) (Bahá'í) The ninteenth and final month in the Bahá'í calendar and the time of the 19-day fast in preparation of their new year, Now Ruz.
March 8 – International Women's Day (UN) According to one source, a women's march in New York in 1857 provided the inspiration for the day. Others claim that it began as a commemoration of a strike by women needle trades workers in New York City in 1908. International Women's Day was revived in the 1960s and in 1975 the U.N. began sponsoring this day.
March 17 – St. Patrick's Day (Ireland) The death anniversary of their patron saint. He used the three-leaved shamrock to explain the Christian idea of the Holy Trinity, thus the idea of wearing a shamrock.
March 18 – Ugadi (India, Mauritius, Nepal) Ugadi marks the beginning of the new Hindu lunar calendar. Celebrated mainly in the southern states of India, people awake before the break of day, bathe and decorate the entrance of their homes with mango leaves. They eat bitter Neem leaves with sweet jaggery to signify the bitter and sweet of life.
March 20 – International Day of the Francophonie (International) This date commemorates the signing of the Niamey Convention on March 20, 1970, which resulted in the grouping together of French-speaking states. There are 77 member countries celebrating the French language and Francophone culture, totaling more than 200 million speakers around the world.
March 21 – International Day for Elimination of Racial Discrimination (UN) Promoting tolerance, inclusion, unity and respect for diversity in the context of combating racial discrimination
March 24 – Earth Hour (International) Around the globe individuals, communities, businesses, and governments are invited to switch off lights for 1 hour at 8:30 p.m. local time to send the message that the earth's citizens care enough about climate change to take action. From its inception in Sydney, Australia, in 2007, the event has grown to include 135 countries and territories
March 30 – Good Friday (Christian) This day commemorates the passion and death by crucifixion of Jesus. A procession called the Way of the Cross takes place in many Christian communities.
March 31 – Pesach/Passover (Mar 31-Apr 7) (Jewish) Begin previous sundown at 6pm, Pesach lasts for eight days. This time commemorates the Exodus of the Israelites from Egypt. It begins with a ritual meal 'Seder' when no leavened bread is consumed with special prayers and symbolic foods.
Other dates to note
| | |
| --- | --- |
| Date | Event |
| March 1 | Martenitza (Bulgaria) |
| March 1 | St. David's Day (Wales) |
| March 1 | Chalanda März (Switzerland) |
| March 1 | Independence Day (Bosnia) |
| March 1 | Purim (Jewish) |
| March 2 | Hola Mohalla – Bikarami (Sikh) |
| March 2 | Holi (Sikh, Hindu) |
| March 2 | Butter Lamp Festival (Tibet, Buddhist) |
| March 2 | World Day of Prayer (International) |
| March 6 | Independence Day (Ghana) |
| March 11 | Mothering Sunday (Northern Ireland) |
| March 12 | Girl Scout Day (Canada) |
| March 12 | National Day (Mauritius) |
| March 15 | Memorial Day (Hungary) |
| March 16 | Gahambar Hamaspathmaedem (16-20) (Zoroastrian) |
| March 18 | Flag Day (Aruba) |
| March 19 | St. Joseph's Day (Christian) |
| March 20 | Spring Equinox |
| March 20 | Now Ruz (New Year) (Iran) |
| March 20 | Eostre (Wicca) |
| March 20 | Shunki-Sorei-Sai (Shinto) |
| March 20 | Shunbun no hi (Japan) |
| March 20 | Independence Day (Tunisia) |
| March 20 | Poutuerangi (Aboriginal/Maori, New Zeland) |
| March 21 | Now Ruz (New Year) (Afghanistan, Zoroastrian, Islam Ismaili, Bahá'í |
| March 21 | Harmony Day (Australia) |
| March 21 | International Day for Elimination of Racial Discrimination (UN) |
| March 22 | Emancipation Day (Puerto Rico) |
| March 22 | World Water Day (UN) |
| March 23 | World Meteorological Day |
| March 25 | Palm Sunday (Christian) |
| March 25 | Ram Navami (Hindu) |
| March 25 | Evangelismou (Greece) |
| March 26 | Birth of Prophet Zarathustra – Fasli (Zoroastrian) |
| March 26 | Kuhio Day(Hawaii) |
| March 26 | Independence Day (Bangladesh) |
| March 29 | Mahavira Jayanti (Jain) |
| March 29 | Holy Thursday (Christian) |
| | |
| | |